Piano Removal and Disposal in Berkshire, Surrey, Hampshire & London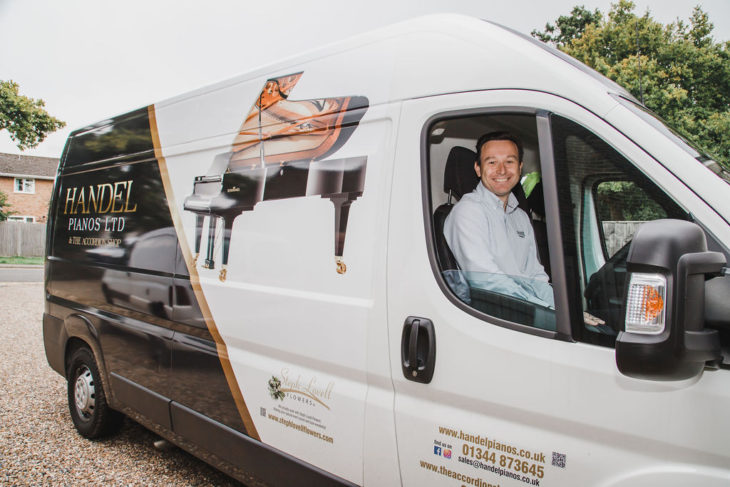 Piano Moving in Berkshire, Surrey, Hampshire & London
At Handel Pianos, we have our own specialist piano moving team complete with an especially equipped van. This is fitted out with specialist piano moving equipment, including various piano trolleys and boards to make the job easier, safer and to take care of your home and garden whilst delivering or moving your piano. We can provide a prompt and efficient piano moving service; our experts can move your piano to another room, another house, county or country.
If it is specialist piano moving that you require, i.e. staircases or moving large grands, we are happy to help organise this for you with our network of other piano moving specialists. Between them they are able to carry out stair work, crane work, help to organise road closures with the council (where needed), move your piano abroad and crate your piano for you ensuring it arrives in one peace.
Below is just one of the many compliments that we have received from our satisfied customers.
"Hi there, I just wanted to write and say how fantastic I thought the service was I received from the two guys who moved my piano for me on Saturday to Chertsey. They were not only fast and efficient, but provided lots of useful information as well. Please thank them for me again, I would not hesitate in getting in touch again for anything piano orientated!"   Samantha W
Piano Removal & Disposal
Many old pianos which are past their best can cause a problem for their owners as they are not the sort of item that can be easily boxed up and disposed of at the local recycling centre. In fact, it can be dangerous to try and break up an old piano without the right protection as the piano strings hold the frame under tonnes of tension. Flying bass strings and parts of the iron frame can be the cause of serious injury to the unwary! The good news is that we can help you by collecting your old piano and disposing of it carefully for you. We strip the piano of any useful parts and veneers, as well as taking the metal weights out of the keys and melting them down, reshaping them and reusing them to reweight other piano keys. The wooden keys are used in various wood burners, and the metal frame and other metals stripped off and recycled.
Pianos that no longer have a value are normally pianos older than 100 years. They can be quite decorative and have candle sconces or the holes where the sconces used to be in the front panel. Pianos from this era would have been built in the heyday of the piano and many of them would have been built "down" to a price, similar to a DVD player today being available from supermarkets for a few pounds but costing over a thousand pounds when they were originally released. Most pianos falling into this category would be straight strung and over damper pianos with so called birdcage actions and wooden frames instead of the iron frames used in better quality pianos. These pianos were entry-level cheap pianos of their day and wouldn't have been great pianos then, so unfortunately it is possible that Granny's old piano will only serve to put off young starters and will not encourage them to learn.
There are of course always exceptions to the rule, the most notable pianos of higher quality tend to be German built pianos and would include Steinway and the three "B's" Bosendorfer, Bechstein and Bluthner. If you are unsure of the value of your piano please contact us, ideally emailing a photo or two so that we can assess the piano for you and possibly buy the piano from you.
Please note that when sending photos our server has a size limit so if your email bounces back try sending your pictures one at a time.